Welcome to Nolen Knives.  Custom Made Knives.  Hunting Knives. Fishing Knives. Utility Knives. Kitchen Knives.  Fantasty Knives.

INTRODUCTION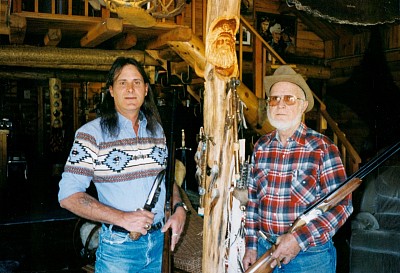 NOLEN KNIVES are designed and made with the serious hunter in mind.  Our most important objective is to make a knife that will give you a lifetime of service.  A knife is nothing more than a tool that was meant to be used.  However, we realize that many collectors have and will continue to purchase our knives.  We appreciate this very much, but ask you to understand that our knives are primarily a working tool not an object of art.  
We started making knives as a hobby in about 1968 for our own personal use.  Then as the demand grew, we found ourselves making knives for sportsmen and collectors all over the world.  We have shipped knives to some 15 foreign countries and every state in the Union.
However, increased demand has not been through our efforts alone.  Our customers have been responsible for much of the evolution that has taken place in the knives we make today.  Their suggested changes and improvements have resulted in a better NOLEN KNIFE.
We would like to thank specifically the following people: first, our "compadres" in the knifemaking fraternity-like Jimmy Lile, Clyde Fischer, and many others who have helped us in so many ways.  To the gentlemen in the publishing industry, without whose help our work might have gone unnoticed; B. R. Hughes, Sid Lathem, John Wootters (Peterson's Hunting), Jack Lewis (Gun World), Jim Carmichel (Outdoor Life), Jim Woods (Peterson Publishing Co.), Mel Tappan (Guns and Ammo), George Martin (The American Rifleman), Ken Elliott (Peterson's Hunting). 
KNIFE STEELS
The heart of any knife and the true test of its worth is the steel in the blade and the resulting temper of that steel.
We have chosen two steels that we feel contain the most desirable characteristics for a hunting knife.  They are D-2 and 440C.  Since we use the knives, we make and have tested these steels in the field, we are confident in our selection - D-2 is a high carbon tool steel whose toughness and wear-resistance give outstanding edge holding ability.  Yet it has just enough chromium to make it stain and rust-resistant.  However, it will rust, so it does require a little care.  440C is considered a "stainless steel", but it is also a high carbon tool steel.  It contains enough chromium to make it highly resistant to corrosion.  When tempered properly, 440C will hold an edge well and requires very little care. 
TEMPERING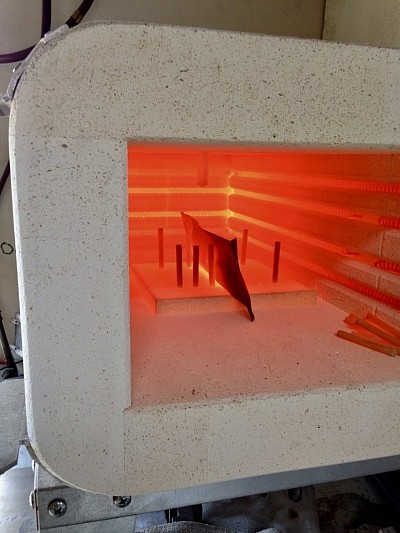 The tempering or heat treating of the steel, regardless of the type of steel used, is the real secret to the quality of any knife.  We prefer to temper our own blades and do so in a furnace especially made for this purpose.
We use a Rockwell Hardness Tester to check every blade we temper.  And the hardness of C57 to C60 is achieved depending on which steel we are using.  A point or two lower and the blade would have to be sharpened more frequently.  Raise the hardness figure too much above C60 and, while it would hold an edge longer, the blade will be almost impossible to sharpen.
To this subject of hardness and edge holding ability let me hasten to add this; these two steels - D-2 and 440C - are not some "miracle" steels.   The knives will get dull - they will not hold an edge forever and they are hard to sharpen.  Notice I said hard to sharpen - not impossible.
The edge holding ability of a knife will vary from one user to another, depending on how sharp the knife is to start with and how and on what it is used.  We will do our best to make you a knife that will fill your needs and of which we can both be proud.